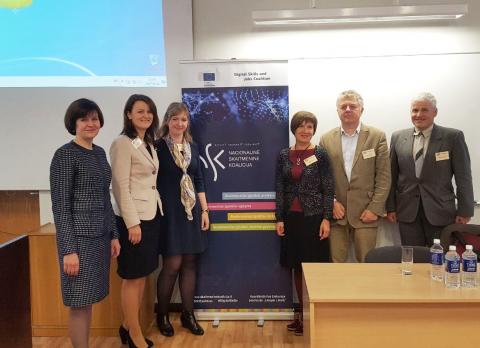 The bi-annual event "Computer Days 2017" ("Kompiuterininkų dienos 2017"), organized by Lithuanian Computer Society (LIKS) took place on 21-22 September at Kaunas Faculty of Vilnius University. One of the key partners of the event this year was the National Digital Coalition.
IT news in Lithuania and Europe were presented at the plenary session of conference.
After greetings from the dean of the Kaunas Faculty of Vilnius University and the representative of the Kaunas municipality, vice-minister of Education and Science Gražvydas Kazakevičius spoke about the influence of the changing world on education and the challenges for our country.
Head of the Information Society Development Division of the Ministry of Transport and Communications Dr. Aušra Kumetaitienė presented the project of the renewed programme "Digital Agenda for Lithuania", which will be approved by the end of this year.
Information Society Development Programme "2014-2020 Digital Agenda for Lithuania" was approved in 2014, but it was decided to review and update it in light of current issues. Several working groups were set up for this purpose. The members of the National Digital Coalition formed one of the working groups that have made proposals for updating the goals and problems of the Objective 1 of this program.
"Digital Europe" representative Katarzyna Kozioł spoke about the goals and activities of the Digital Skills and Jobs Coalition, highlighted the lack of digital skills and ICT professionals in Europe, and what initiatives and actions the European Commission is taking to address these issues. She also spoke about National Coalitions created in other countries.
Loreta Križinauskienė, Director of the Association "Langas į ateitį", provided information on the National Digital Coalition in Lithuania, the reasons why this coalition was created, as well as its goals and objectives.
Digital Champion of Lithuania Dr. Renata Danielienė provided information on the place Lithuania occupies in Europe according to the level of digital skills of all Lithuanian residents and labor market participants based on the statistics of the DESI (Digital Economy and Society Index).
Representative of the Ministry of Education and Science dr. Vaino Brazdeikis introduced the "The Digital Competence Framework for Citizens DigComp 2.0" translated in Lithuanian.
Monika Simaškaitė, a representative of "Infobalt", spoke about the need for IT specialists in Lithuania.
"Danske Bank" representative Dr. Vytautas Ašeris introduced the report "Chasing Gen Z. How to inspire learning?"
"Smart Factory" representative Domantas Ozerenskis presented the report "Challenges of 3D Printing Technology in the Perspective of Computer Sciences".
On the second day of the event, training sessions in the sections of the conference for IT and primary school teachers, students and anyone interested took place. During the seminars, the lecturers spoke about e-security, its importance, social engineering, potential threats on the Internet, design rules for creating presentations, 3D printing for science and industry, etc.
News details
Digital technology / specialisation
Digital skill level
Basic
Intermediate
Advanced
Digital expert
Type of initiative
National initiative