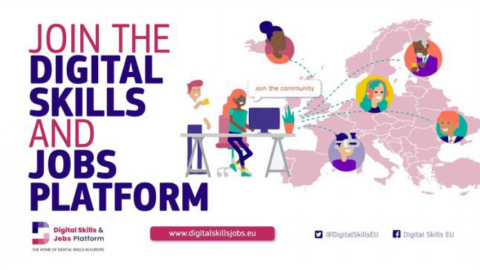 National stakeholders and the European Commission have joined forces to create the Digital Skills and Jobs Platform to accelerate digital upskilling in Europe.
The platform, being unveiled today, will become a unique reference point for digital skills enabling all Europeans – citizens, businesses and public organisations – to make the most of the digital transformation of our society and economy. The platform will function jointly with the 25 national coalitions for digital skills and contribute to reaching the EU's Digital Decade targets.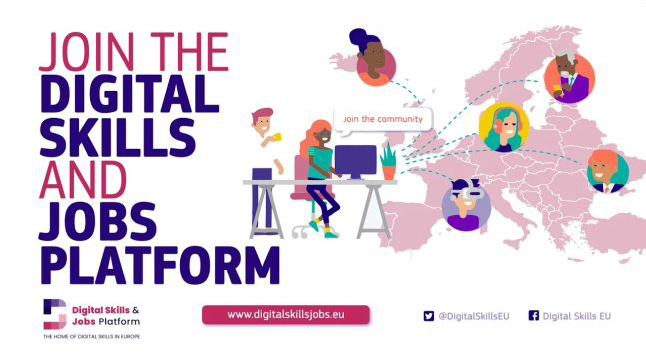 Funded by the Connecting Europe Facility at the request of the EU Member States, the Digital Skills and Jobs Platform brings together best practices in digital skills, resources and the main actors in the field, to make a tangible impact on both basic and advanced digital skills. In the near future, smart functionalities such as a self-assessment tool, multilingual content and online courses on emerging technologies will become available and make it easy for anyone to find the right resource from the best available online today.
Commissioner for the Internal Market Thierry Breton said:
Whether looking for a new job or starting a business, digital skills are key to success. Bringing together hundreds of initiatives from around Europe, the Digital Skills and Jobs Platform is a unique place for citizens to enhance their learning experiences and to discover new opportunities
The platform is designed as a know-how exchange for the National coalitions for digital skills and jobs, companies, and other stakeholders to easily share and present local content, data and experience. The platform will encourage new partnerships across borders and help replicate successful initiatives across Europe.
Jointly with the Digital Europe Programme and the European Digital Skills and Jobs Coalition, the Platform will be an essential tool in reaching the objectives of Europe's Digital Decade which is that80% of Europeans will have basic digital skills and 20 million digital technology experts will be employed in the EU by 2030. It will complement EU countries' reforms and investments triggered by the Recovery and Resilience Facility and highlight successful projects supported by EU programmes such as ESIF, Erasmus+ or Horizon Europe.
Background
The 2020 Digital Economy and Society Index (DESI) shows that 42% of Europeans do not have even basic digital skills. 54% of small and medium-sized enterprises who try to recruit digital experts experience difficulties in filling these vacancies. At the same time, information and resources on digital skills, training and funding opportunities are often fragmented and unevenly distributed, especially across borders. Closing the digital skills gap requires a collaborative approach with a single point for high-quality information, opportunities and an engaged community.
Thanks to the Digital Skills and Jobs Platform, users can navigate through relevant national and European initiatives, inspirational projects, digital trends and resources, all in one place. The Platform also offers an active community space for discussions and collaboration.
Regular reskilling and upskilling is the rule with fast-changing technologies, and the platform aims to become people's reference point for their life-long digital learning journey, independently of their skills level or thematic interest.
For more information
News details
Digital technology / specialisation
Artificial Intelligence
Cybersecurity
Internet of Things
Big Data
Blockchain
Robotics
Augmented Reality
Virtual Reality
High Performance Computing
Machine Learning
Cloud Computing
5G
Telecommunications
WiFi
Quantum Computing
Software
Mobile Application Development
Web Development
Microelectronics
Digital skills
Digital skill level
Basic
Intermediate
Advanced
Digital expert
Type of initiative
National initiative