-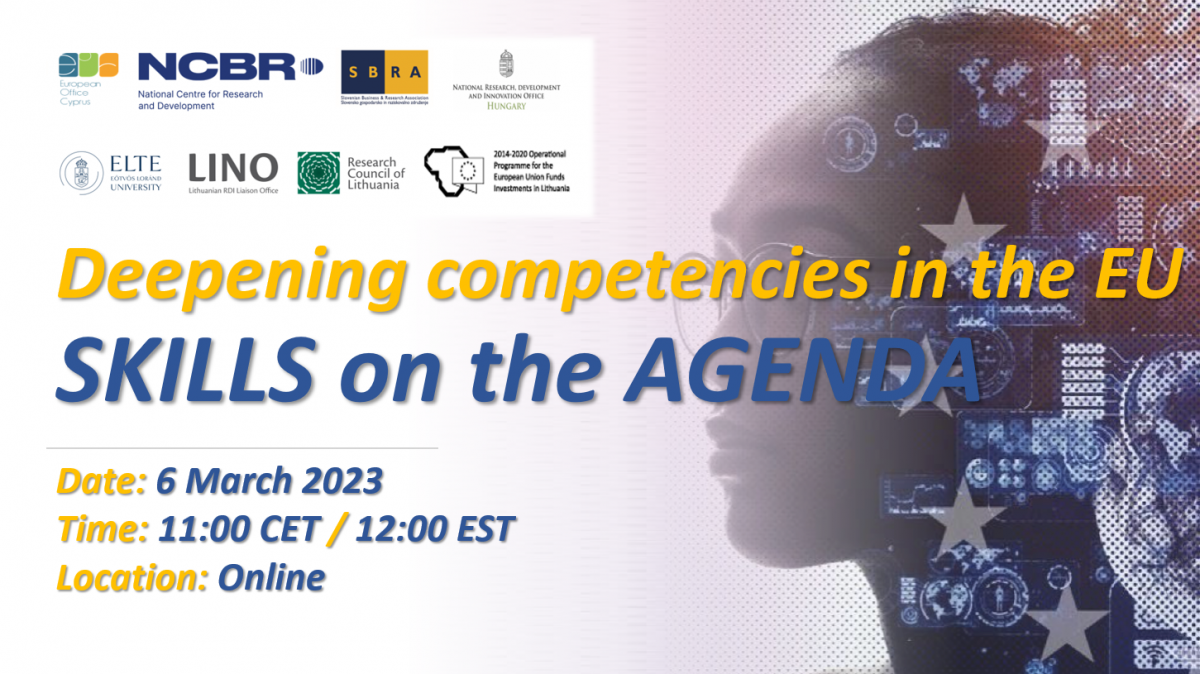 Kovo 6 d. Kipro Europos atstovybė Briuselyje, NCBR biuras Briuselyje, Verslo ir mokslo biuras Lenkijoje, Slovėnijos verslo ir mokslinių tyrimų asociacija, Eötvös Loránd universitetas, Nacionalinis mokslinių tyrimų, plėtros ir inovacijų biuras Vengrijoje ir Lietuvos MTEPI ryšių biuras Briuselyje (LINO) organizuoja internetinį renginį, skirtą įgūdžiams.
Jį sudarys dvi dalys. Jame bus pristatytas Įgūdžių paktas – vienas iš pavyzdinių Europos įgūdžių darbotvarkės veiksmų. Įgūdžių paktas yra pirmasis ir naujausias naujos Europos įgūdžių darbotvarkės iniciatyvos etapas. 2020 m. lapkričio 10 d. pradėta įgyvendinti programa, kuria siekiama suburti viešąsias ir privačiąsias organizacijas ir paskatinti jas prisiimti konkrečius įsipareigojimus dėl suaugusiųjų kvalifikacijos kėlimo ir perkvalifikavimo. Pranešėjas iš Europos Komisijos dalysis naujienomis ir naujausiais duomenimis, kad geriau suprastų Įgūdžių pakto tikslus, kokios yra siūlomos galimybės ir kaip kas nors galėtų dalyvauti.
Kadangi įgūdžiai yra vienas iš naujosios Europos inovacijų darbotvarkės pagrindų, antrojoje internetinio renginio dalyje daugiausia dėmesio bus skiriama tam, kaip Europos inovacijų ir technologijų institutas (EIT) atliks svarbų vaidmenį ją įgyvendinant. Pavyzdžiui, EIT prisidės prie Inovacijų darbotvarkės tikslų, per trejus metus visose valstybėse narėse paremdamas 1 milijoną talentingų specialistų.

Kad galėtumėte dalyvauti renginyje, užsiregistruokite čia.
Įvykio detalės
Industry - field of education and training
Information and communication technologies not elsewhere classified
Inter-disciplinary programmes and qualifications involving Information and Communication Technologies (ICTs)
Target audience
Digital skills for the labour force.
Digital skills for ICT professionals and other digital experts.
Digital skills in education.
Digital skills for all
Digital skill level
Basic
Intermediate
Advanced
Digital expert
Type of initiative
International initiative
Digital technology / specialisation