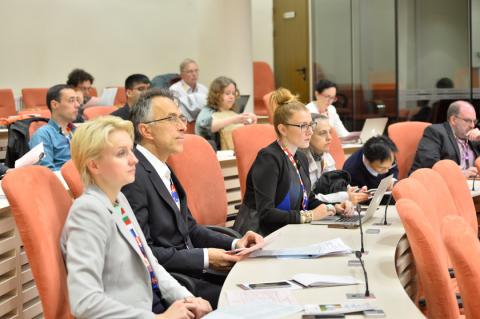 July 3rd-4th, 2017, the 4th European Conference on Social Media was held at Mykolas Romeris University (MRU). 
The Welcome Address and Opening Speeches were delivered by Conference and Programme Chairs: MRU Prof. Aelita Skaržauskienė and MRU Research and Innovation Support Centre Head Dr. Nomeda Gudelienė. 
Lithuanian Robotics Association Director Dr. Edgaras Leichteris discussed, Society in the Cloud: What's the Future of Digitalisation?
Academics and researchers from over 40 countries attended and made presentations. 
They included South Africa's Cape Town University Information Systems Dept. Assoc. Prof. Kevin Johnston's presentation on July 3rd discussing the Impact of the Gig Economy: Uber and AirBnB. 
Also on July 3rd, Israel's Ariel University Dan Ophir and Poland's Warsaw School of Economics Piotr Wisniewski had discussed, "Social Media as an Asset Management Strategy."
Other researchers participating in the Conference came from: Austria, Australia, China, the Czech Republic, Denmark, Egypt, India, Ireland, Italy, Israel, Portugal, Finland, the U.K., U.S. and other countries. Registered particiations was 85.
Conference Programme here.
News details
Digital technology / specialisation
Digital skill level
Basic
Intermediate
Advanced
Digital expert
Type of initiative
International initiative